Samsung Galaxy s8 Deals
The Samsung Galaxy s8 is not the latest model in the Samsung range – but not everyone cares about having the very latest model. We understand that sometimes, it is sensible and desirable to go with what you know. Perhaps you have already had one of these top rated Samsung phones, perhaps you have simply read the reviews and decided that the Samsung Galaxy s8 is the right phone for you. Whatever is the case, if you know that you want a Samsung Galaxy s8 contract, then you have come to the right place!
On this page you can compare all the best contracts and deals for this particular handset. The s8 is one of the best Android phones around and we allow you to compare deals for this phone from all the major networks and service providers without having to wade through deals for other phones that you know you do not want. We know that your time is precious – we help you save it by allowing you to compare only those deals which feature the right phone for you.
Samsung are one of the most popular phone manufacturers in the world, and these phones are almost ubiquitous within the Android arena. These are phones with a wide range of user-friendly and useful technological features. Here, you can make sure that you get the phone handset that you want, while also making sure that you get the best prices and other features and the right contract deal for you.
DESIGN AND DISPLAY
Samsung Galaxy S8 boasts a rounded-corner display and premium metal sides that blend perfectly for a seamless look. And the super-thin bezel leaves more room for the 5.8-inch Quad HD display, providing a much more immersive and enjoyable experience when using your favourite apps, or streaming video content from the web.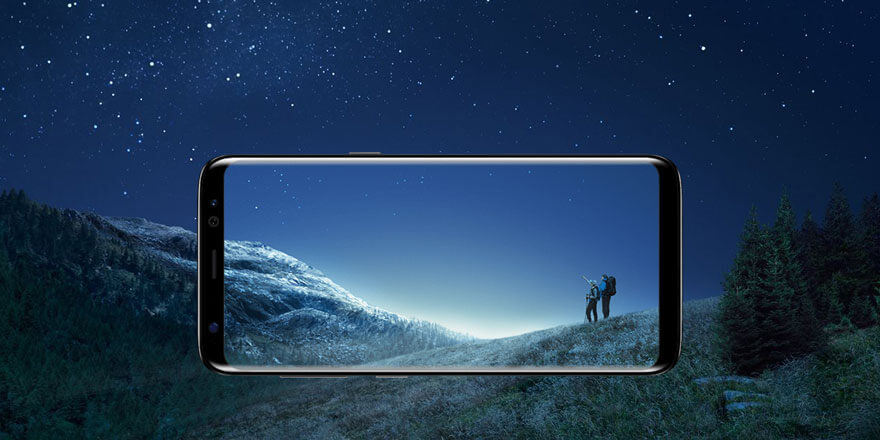 ---
INTELLIGENT ASSISTANT
You get your very own personal assistant and information services with the Samsung Galaxy S8. It's called Bixby Vision, and it's a one-stop dashboard that makes it easier for you to do what you want, when you want.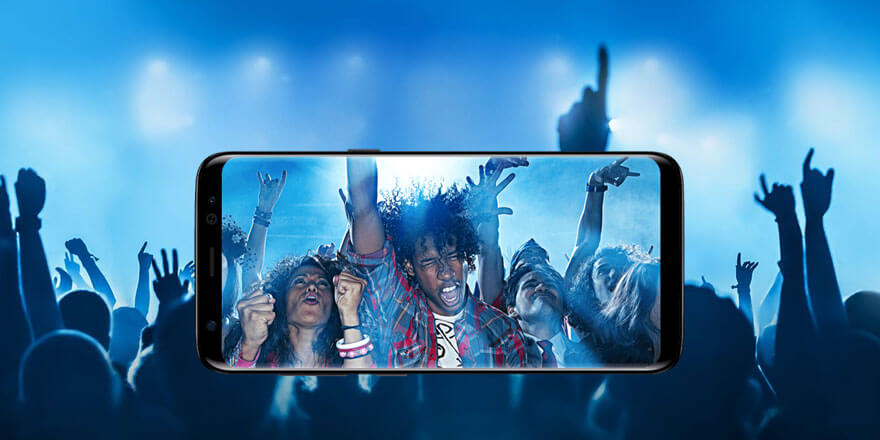 ---
LOCKED-DOWN SECURITY
Built with a high-tech iris scanner, the Galaxy S8 gives you added protection for all your personal information, like your texts, emails and bank info, without compromising on convenience. It's as simple as looking at your S8 to unlock it. No passwords or pass codes.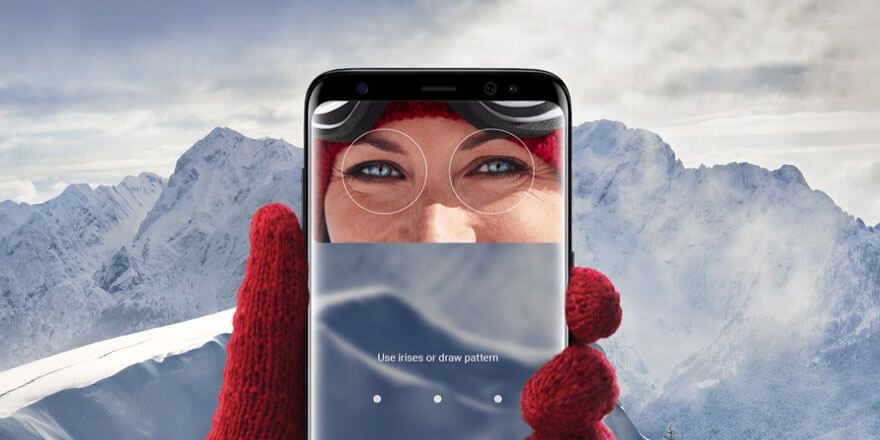 ---
STUNNING CAMERA SHOTS
Samsung Galaxy S8 features one of the industry's best cameras. Whether you're capturing beautiful scenery shots, or a night out with your friends, the Dual Pixel 12-megapixel camera takes incredible photos. The front-facing 8-megapixel camera is fantastic too, with facial recognition for smart autofocus, giving you better selfies every time.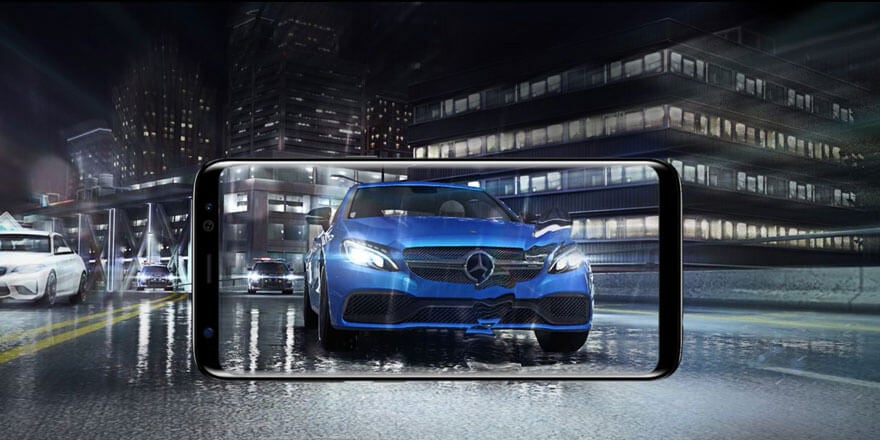 ---
Meet the Samsung Galaxy S8
Full Samsung Galaxy S8 Specification
Display:
5.8-inch Quad HD
Display Technology:
Super AMOLED
Resolution:
2960 x 1440 (571 ppi)
Chipset:
Exynos 8895 Octa
CPU:
Octa-core (4 x 2.3 GHz & 4 x 1.7 GHz)
Card Slot (microSD):
Up to 256GB
Dimensions:
148.9 x 68.1 x 8 mm
Camera Features:
Dual Pixel 12MP AF, OIS (Optical Image Stabilization), F1.7, Aperture Pixel size: 1.4µm, Sensor size: 1/2.55
Video Camera Quality:
2160p
Wireless Connectivity:
WiFi, Bluetooth (v4.2), NFC
Connectivity Port:
USB Type-C
Fingerprint Reader:
Positioned on rear of device
Battery Capacity:
3000 mAh
LTE Cat:
Cat 16 (1024/150 Mbps)
Samsung Galaxy s8 Deals FAQs
Why Are Mobile Phone Contracts Not Always the Cheapest Option?
They over-run their contract and end up paying extra for a phone handset they already own.
They fall foul of price hikes and end up with a worse deal than 'new' customers.
They end up paying for extra data/ minutes/ services that they do not need.
They are pressured to accept a sub-par deal by pushy salespeople in a store.
They have not shopped around and compared for the best deal.
They have not haggled with their current provider regarding upgrades or better deals.
They have upgraded or opted for the very latest phone model when they did not need to.
They do not know their rights regarding price hikes and cancellation.
They are slow to switch when things are not right.
Keep reading the questions below for more in-depth investigations of each of the issues mentioned above, and to be a savvy shopper and a sensible customer when it comes to your mobile phone contract.
How Do I Change To a SIM Only Deal?
If you want to change to a SIM Only deal with your existing network, the first thing to do is check whether you are out of contract and have fulfilled your contractual obligations. The easiest way to check is simply to phone up your network and ask. Tell your network that you will like to switch to the SIM only deal that you've selected through using our comparison service. All being as it should be, you will then simply be transferred to your new SIM only deal 30 days after your current contract was due to end – easy as pie!
Want to Pay As You Go SIM-only Contract?
Pay as you go SIM-only deals could be a good choice if you have a poor credit rating and are rejected for a longer term contract phone deal. Pay as you go SIM only deals, which allow you to pay month by month, can also be a good choice if you want a very flexible arrangement. These monthly rolling arrangements can be good if you are on a tight budget – starting from not much more than £5 per month.
Who do we include in MoneyPugs Mobile Phone Comparison?
We include every UK Mobile phone provider. Which includes the latest mobile phones, and the best deals from all websites.
Why Is It Important to Pay Attention To When Your Contract is Up?
Mobile phone service providers are not particularly scrupulous when it comes to telling customers when they are nearing the end of their existing contracts. If you are not careful, you can continue on a contract, paying extra for a handset the cost of which has already been paid in full (and often more) over the contract period.
Failing to check when you contract is up can mean that you are pretty much throwing money away! Whether you are currently on a contract, or contemplating taking out a new one, it is crucial to take note of when the contract will be done, and to act before that date arrives to make sure you are not wasting your hard-earned cash.
Being fully aware of what is being paid and when it will be paid is crucial to getting the best deal. Make sure you are organised. Make a note in your diary or personal schedule – set an alert on your smartphone – however you keep track of the contract term and end date, make sure that you do. Failure to extricate themselves from an expired contract is the number one way in which people end up paying more than they have to pay on their mobile phone contracts.
Why Can It Be A Good Idea To Switch Service Providers Rather than Sticking With One?
Even if your contract is not yet up, it is a good idea to keep up to date with any changes to your contract and to carefully monitor how much you are paying. Even before you are free to leave without penalty, it is definitely worthwhile checking around for mobile contract deals to make sure that you are not being short changed by your service provider. According to Ofcom, around 1.5 million people continue to pay the same price after the minimum contract period and are paying more than they should be paying for their communication needs since they are paying for a handset that they already own.
Even if this is not the case for you, you could still be being short changed. Sometimes, in order to entice new customers, service providers will offer introductory rates to new customers – while existing customers are left on far less advantageous deals. Why should you stick with what you have, while new customers are offered far more favourable terms? It may be time to speak to your service provider to find out what they can do for you. Or, if they just won't play ball, it might be time to shop around and find yourself a better deal by switching to a new provider. Even with the charge to break a contract, you could end up saving money by switching at just the right time.
It is important to keep an eye on what exactly you are paying, even mid contract. Mobile phone companies are entitled to raise your monthly tariff in line with inflation each year, when it states that they can do so in there terms and conditions before you sign on the dotted line. Changes are often made in February or March with reference to the Retail Price Index (RPI). If the prices are raised by more than the RPI, however, then you should note that you are entitled to leave your contract penalty free.
What Do I Need To Know To Get a Good Deal on a Mobile Phone Contract?
So, you are switching or beginning a brand new mobile phone contract. But what do you need to know before you search and compare, and decide upon the best deal for you? There are certain things that you should think about before you make any decision about a mobile phone contract:
About You:
In order to make sure that you get a great deal on a mobile phone contract, the first and most important thing (once you've decided to go for a contract deal in the first place) is to make sure you are fully aware of your own phone and data use habits. If you don't know how many minutes or how much data you need, then you can end up paying well over the odds for minutes or data that you simply do not need. You could also end up costing yourself money if you end up going over your data allowance and having to purchase more data month after month.
You can use an online tool to work out what data allowance you really need. Two sites have been accredited by the regulator Ofcom which will analyse your bills from the past three months to determine your average usage. These are Billmonitor and Ctrlio. Both can read bills from many of the main UK mobile phone service providers.
About Your Phone
In addition to understanding your own needs and smartphone habits, it is also worthwhile doing your research to make sure that you get the right handset for you. When choosing a handset, whether on contract or when purchasing one outright or with personal borrowing, be sure to consider:
Brand, manufacturer and operating system. (Think about any prior experience you may have with any of these things, and also the experience of others – family, friends and people reviewing phones online.)
Storage capacity. (How much data will you want to store on your phone? Will the phone's storage be sufficient?)
Technical specs. (Consider processing speed, graphics, screen details, operation etc.. and carefully consider whether the handset you are considering is suited to your needs.)
About the Service:
Another thing to consider when you choose a mobile contract is how good internet and phone coverage from the network or service provider you have chosen will be where you live. Coverage varies considerably, and while black spots in coverage are becoming rarer and rarer, it is important (especially if you live in a more rural or remote area) to make sure that you will be able to get a good phone and Internet service where you live.
Why is Comparing Contracts Online is a Better Idea than Buying Under Pressure In-Store?
It may seem obvious, but when we have the time and space to consider our choices carefully and take the time to compare deals online, we get better deals on mobile phone contracts. One of the problems with heading into a store to sort out a mobile phone contract is that it can be easy to be pressured into accepting a sub-par deal.
Pushy salespeople have a job to do – sell you a contract deal. Unfortunately, that can often mean that you will end up pressured into something, and saddled with a contract deal that is not right for you. Rather than trying to contend with the human, sales elements of the process straight away, it is better to take some time online to search and compare contracts and do your research while keeping a clear head. When you take a beat or two before rushing in, you are far more likely to make the right decisions and not be bamboozled into an impulse purchase. An impulse in store could lead to a headache for months to come if you are saddled with the wrong contract deal.
Be sure to use Money Pug's handy and easy to use comparison service, and do some more reading and research around the subject before you commit to anything. That research and preparation is one of the best ways to save money and make sure you do not pay over the odds for your mobile phone contract.
Should I Consider an Upgrade Offer From My Current Contract Provider?
If you are coming to the end of an existing mobile phone contract, you may be considering whether it is worth your while considering an upgrade offer, or whether you would be better switching provider as soon as you are free to do so. The answer is not a simple yes or no. Rather, the answer to this question will depend on what exactly is on offer. First off, ask yourself:
Do I really need to upgrade my handset?
You may be feeling the need to upgrade your handset for a number of different reasons. Perhaps you feel that your phone is getting old. Perhaps it is becoming less reliable. Perhaps you are no longer finding that the technical specs are sufficient for your needs. There are a number of good reasons for consider switching out your handset for a better model.
Remember, however, when deciding whether or not to go for an upgrade offer from your current mobile phone service provider, that selecting to purchase a new handset through a contract deal is not always the cheapest or best option. As mentioned above, you may wish to purchase a new handset in a different way – a different way which could be cheaper in the long run. Before you commit to an upgrade offer, be sure to weigh up all the different possibilities including buying a new handset outright, or arranging personal finance such as a credit card or personal loan.
If you do need a new handset but don't require the very latest model then a refurbished handset could also be a good way to go, and a second hand mobile phone that is in good condition could be a cheap and sensible way to go. (We'll look at the idea of a refurbished handset a little later in this Q&A.)
But perhaps you do not even need a new handset. Many of us are easily seduced by the shiny and new. But sometimes it is better to stick with what works well rather than always opting for the very latest thing. There are a number of reasons why it is a good idea to stick with an existing handset, as long as it still works well and it suitable for your needs. First of all, of course, opting not to buy-in to quick-turnover, disposable, consumerist culture is better for our planet and for the future of humanity. Sticking with a phone that works – at least for now – can often be the most sustainable choice.
Another reason to consider sticking with your existing phone for a little while longer is that you could use the extra time to save up (so you then may be able to buy your next phone outright, using the money you have saved by sticking with the same phone and opting for a competitive sim only deal.)
When offered an upgrade by your existing mobile phone contract provider, the key thing to remember is that you should remain firmly in the driving seat, Money Pug always aims to help make sure that the customer is always in control – able to make the right decisions for themselves and never taken for a ride by unscrupulous service providers.
Before you even consider accepting an upgrade deal on your mobile phone contract, be sure to do your homework. Shop around to see what other deals are out there on the market, and act accordingly. But just because you have found a better deal elsewhere, that does not always mean that you should switch provider.
Your mobile phone contract provider should work for you. They are providing a service and being paid for it, not doing you a favour. As a customer, you have the right to discuss things with the company with whom you are doing business. Haggling is perfectly acceptable.
How to Haggle:
Haggling is not about being needlessly rude or pushy. But it is about being assertive, and making sure that you are getting the best possible deal. It is very true when it comes to mobile phone contracts that if you don't ask, you don't get. Remember when you are asking for something, to speak clearly and to explain why you think it would be fair for you to get a better deal. There is often far more flexibility in contract deals than you may have imagined.
Bargaining chips might include the fact that the better deal is being offered to 'new' customers of the same service provider, or that another comparable deal from another company is more competitively priced. You can also bargain using the fact that you have been a loyal customer for a number of years… or have several mobile phones (for your family) all linked to the same contract. Again, it is worth saying again – if you don't ask, you don't get. The worst they can say is 'no' – and if they do, and your contract is coming to an end, it might be time to switch.
When you are trying to get the best deal, the key is to make your displeasure clear without being impolite (remember the person on the end of the phone is just an employee, trying to do their job).Your aim initially is to be put through to 'customer disconnections' – often known internally as 'retentions' as their job is to keep your custom if they can. Remember, when haggling, or negotiating a better deal, that the power is in your hands and companies want to keep your loyalty.
If at first you don't succeed, don't be afraid to phone back a few days later to get through to a different member of staff to see if you have any headway with someone new. Some staff may be quicker to proffer the best deals than others. Don't be pushed into accepting an offer too quickly – sometimes a first offer will be bettered if you stay on the line and be firm a little longer. Don't be afraid to pause and have them fill a silence with a cheaper deal offer.
Even once you've reached a deal you are happy with, consider asking for extras too – if you don't ask then you don't get, so ask for it all, and see what happens. You probably won't get absolutely everything that you want, but you will certainly get more by being firm than you would have done if you had simply gone for the original upgrade or renewal offer.
Can I Avoid Upgrading My Handset When I Need More Storage?
One of the number one reasons for people deciding that they need an upgrade is that they have run out of storage space on their current smartphone. If your phone is full up, that can be very frustrating. But it is important not to jump too quickly to the conclusion that you need a new and better model which could cost you a lot of money. Before you decide to upgrade your handset, make sure that you have considered how you might be able to free up some extra space.
How to Free Up Memory and Increase the Storage on Your Phone
It can be very frustrating if you go to take a picture or install a new app or download your new favourite tune, only to get the message that your phone is full! But before you jump to the conclusion that you need a new handset with a larger capacity, it is worthwhile taking some basic measures to free up memory.
Check through your photos, videos and music and take the time to delete any duds, or anything that you no longer want. Often, you will find things that you forgot were on there that you can get rid of to quickly free up a little more space.
The photos, videos etc. that you do want, you should consider moving these to storage elsewhere. While you could opt to store these on your own hard drive, a cheaper and more feasible option for most people is online storage – which you can get for free. Whether you have an Android or an Apple smartphone, you can use Google Photos. IOS users can get free storage on iCloud with their Apple ID. There are also plenty of other free online storage solutions for your photos and other media.
Do an app audit and consider deleting any apps you do not use.
Clear the caches on your apps. (Careful not to delete data that you do want.)
Clear the cache on your phone's browser.
Consider deleting old messages (this could clear a lot of space, especially if there are lots of images or videos involved).
Consider deleting podcasts that you have already listened to.
Consider deleting books you've already read.
Consider deleting films/ TV/ video or storing these elsewhere.
Disable pre-installed apps on your phone that you do not use in your phone's settings.
Move music from your phone to a back up on a PC or laptop. Music takes up a lot of space, so consider moving from storing your music locally to a streaming service like Spotify.
You can also stick with your own music but keep it online using Google Play Music, which allows you to upload up to 50,000 tracks for free and download or stream them whenever you want.
You may be surprised by how little storage you truly need, especially when you avail yourself of free online storage solutions.
Should I Consider Getting a Refurbished Mobile?
If you do decide that you need a new mobile phone but are worried about the cost then a refurbished mobile could be a good solution. These phones, which have been returned by customers and checked and repaired – are far cheaper than new handsets. They usually don't come with original packaging and sometimes do not have all accessories, but they should be in full working order and will have been thoroughly tested. Often, they come with a warranty. However, if you are considering a second hand refurbished phone then you should bear in mind that not all refurbished models were created equal. Refurbished phones from the manufacturer tend to be the best bet, since these are most reliable and guarantee to a higher standard.
Refurbished phones are usually graded by retailers to give an idea as to quality. Unfortunately, these grades are not set independently, so quality can and does vary. But typically, the grades are as follows:
Grade A – appears new – few minor signs of handling or wear, if any.
Grade B – May have scratches, chips or other slight cosmetic damage.
Grade C – will show signs of wear and look used.
The warranty is the most important factor when choosing a refurbished phone. It is important to make sure that you are covered should a fault develop or become apparent. Warranties usually cover a phone for one year, though it can be a shorter period, so it is important to check before you buy. While it can feel great to save a bundle on a smart new-to-you smartphone, it is important to make sure that you are covered should there be a problem.
When Should I Ask For My Pac Code From My Current Mobile Phone Contract Provider?
So, your existing contract will come to an end, you've got something great lined up, and have decided to switch. Whether you are jumping into another mobile phone contract, or opting for a Sim only deal, it is important to ask for your pac code from your current mobile phone contract provider before the very end of your contract. Remember that, with most contracts, you will have to give 30 days notice (and pay for 30 days) before you can leave. Make sure you don't have to pay more than you should by making sure that you give notice and ask for you pac code a month before the contract ends. That way, you can see your notice period out without it costing you extra.
Can I Get a 'New Customer' Deal as an Existing Customer?
Earlier on in this Q&A we discussed the importance of haggling. Remember, if you don't ask, you don't get. If you notice that your service provider is offering a better deal for new customers, then the first thing that you should do is phone them up and ask politely if they will match it.
If they will not play ball, but you would still like to stay with the same company, then you could consider temporarily porting your number to a different network before coming back to the old network as a 'new customer'. This may sound like a hassle – but it is easier and more simple than you might imagine.
You can't technically port your number within the same network, so in order to keep your number but get a new customer deal, you will need to get a free pay as you go Sim from a different network, port your existing number across to it, then port the number again to the new contract once it has been set up. While it is a bit of a pain, it should not take more than a week to get set with the better 'new customer' deal.
Could a 'Cashback' Deal Help You Save More?
When comparing contracts, you may come across cashback options which could help you save more on your mobile phone bills. There are sometimes extra savings to be had through a cashback deal – but this is by no means guaranteed. There are three types of cashback deals available, each of which works a little differently. These are:
Redemption Cashback
These biggest discounts are on 'cashback redemption' deals which are offered through reseller sites. These involve sending off your bills at several points throughout your contract and getting paid in instalments. Miss one and you will lose out.
Automatic Cashback
Also via resellers, these deals mean that you will be sent a cheque automatically within a few months without having to claim – though the discount is not usually as big.
Cashback via Cashback Sites
It is sometimes also possible to beat the deals above by going for a powerhouse offer through a dedicated cashback website. Be aware, however, that there can be a range of potential problems involved in going this route.